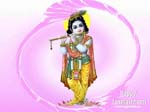 II OM SRI KRISHNAAYA NAMAHA II
II Vasudevasutam devam kamsachaanooramardanam;
Devakeeparamaanandam krishnam vande jagadgurum II
For 'Life saving' Slokas read Srimad Bhagavad Gita.
Read 2 Slokas from Gita updated in this blog daily only in 5 minutes. This makes you eligible for the grace of Lord Krishna, ocean of mercy. He clears all your sufferings and fills your life with all types of prosperities, success, extra ordinary things and permanent good qualities.
Anybody can participate in this 'Gita Yajna' at any time.
27.Shvashuraan suhridashchaiva senayorubhayorapi;
Taan sameekshya sa kaunteyah sarvaan bandhoon avasthitaan.
Kripayaa parayaa'vishto visheedannidam abraveet;
(He saw) fathers-in-law and friends also in both armies. The son of Kunti—Arjuna—seeing all these kinsmen standing arrayed, spoke thus sorrowfully, filled with deep pity
Drishtwemam swajanam krishna yuyutsum samupasthitam.
Seeing these, my kinsmen, O Krishna, arrayed, eager to fight,
One Important sloka from Gita daily :
13.26 anye tv evam ajanantah
srutvanyebhya upasate
te 'pi chatitaranty eva
mrityum shruti-parayanah
"Again there are those who, although not conversant in spiritual knowledge, begin to worship the Supreme Person upon hearing about Him from others. Because of their tendency to hear from authorities, they also transcend the path of birth and death."
One devotional thought for the day daily :
I recognise Thee alone as the mighty ruler of this universe and the inner controller of my three bodies. I prostrate again and again before Thee, my Lord. Thou art my sole refuge. I trust Thee alone, O ocean of mercy and love! Elevate, enlighten, guide and protect me. Remove the obstacles on my spiritual path. Remove the veil of ignorance.
Glories of 'SrimadBhagavadgita' : One daily :
Geetaabhyaasam punah kritwaa labhate muktim uttamaam;
Geetetyucchaarasamyukto mriyamaano gatim labhet.
17. By repeated study of the Gita, he attains liberation. Uttering the word Gita at the time of death, a person attains liberation.
Please DONATE to support this Blog 'Gita Yajna' :
Name : K.Niranjan Prabhu. Bank : State Bank Of India. SB a/c no.
Western Union Money Transfer : K Niranjan Prabhu, 'Sri Durga',
MIG-4, KHB Colony, Mulki
- 574154.

DK Dist., Mangalore Tq., Karnataka State,
INDIA.

Phone

: 919611651254.
Mail payment details (MTCN No., Name, address and amount) to :
knblog45@gmail.com
Prayers and Pooja is performed everyday to Lord Krishna to bestow maximum benefits of this Gita Yajna to all participants and donors.
II OM SRI KRISHNAARPANAMASTHU II
==============