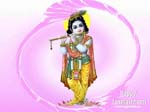 II OM SRI KRISHNAAYA NAMAHA II
II Vasudevasutam devam kamsachaanooramardanam;
Devakeeparamaanandam krishnam vande jagadgurum II
For Problem free life join this team of 'Gita Yajna' in 5 min. daily.
To participate in this Gita Yajna you have to read 2 slokas from Gita daily which is updated in this blog everyday. By doing this you become a devotee of Lord Krishna.
You experience good improvements day by day inside you, in your family, in your job/business and in your surroundings. You become problem free soon without any doubt. You need not wait long time for this. Lord Krishna has promised in Gita that HE is taking care of HIS devotees,
to them HE carrys what they lack and HE preserves what they have(9.22).
Anybody can participate in this 'Gita Yajna' at any time.
23.Yotsyamaanaan avekshe'ham ya ete'tra samaagataah;
Dhaartaraashtrasya durbuddher yuddhe priyachikeershavah.
For I desire to observe those who are assembled here to fight, wishing to please in battle Duryodhana, the evil-minded.
24.Evamukto hrisheekesho gudaakeshena bhaarata;
Senayor ubhayormadhye sthaapayitwaa rathottamam.
Being thus addressed by Arjuna, Lord Krishna, having stationed that best of chariots, O Dhritarashtra, in the midst of the two armies,
One Important sloka from Gita daily :
10.42 atha va bahunaitena
kim jnatena tavarjuna
vistabhyaham idam krtsnam
ekamsena sthito jagat
Lord Krishna said "But what need is there, Arjuna, for all this detailed knowledge? With a single fragment of Myself I pervade and support this entire universe."
One devotional thought for the day daily :
1. I adore that Supreme Lord Krishna who has adorned Himself with the crown bedecked with the feathers of the peacock, whose face is full of smiles of love, whose eyes pour down a shower of merciful looks, whose body has the colour of the thick clouds (of the rainy day), who is with the sweet innocent beauty of adolescence, who is full of Madhurya Rasa (divine love or Prema) and who bestows immortality and frees from Samsara those who prostrate at His lotus-feet.
Glories of 'SrimadBhagavadgita' : One daily :
14.Adhyaayam shlokapaadam vaa nityam yah pathate narah;
Sa yaati narataam yaavanmanwantaram vasundhare.
If one reads a discourse or even a part of a verse daily he, O Earth, retains a human body till the end of a Manvantara (71 Mahayugas or 308,448,000 years).
Please send Donations to support this Blog 'Gita Yajna' :
Name : K.Niranjan Prabhu. Bank : State Bank Of India. SB a/c no.
Prayers and Pooja is performed everyday to Lord Krishna to bestow maximum benefits of this Gita Yajna to all participants and donors.
II OM SRI KRISHNAARPANAMASTHU II
==============